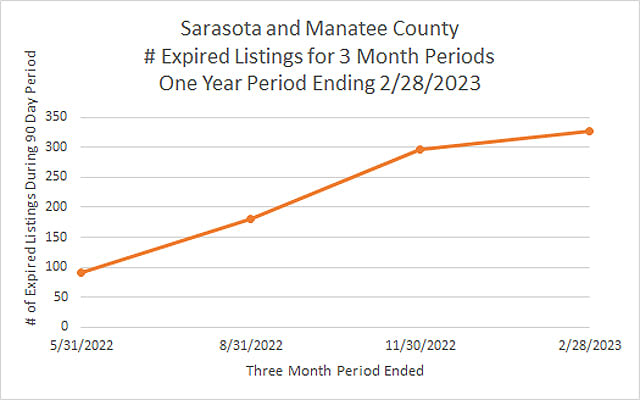 The source of all data is Stellar MLS for the combined areas of Manatee and Sarasota Counties. Unless otherwise stated, the data includes combined totals for the residential property types of Single-Family Home, Condominium, Villa, and Townhomes. The period covered is as stated in the charts/comments.
Summary
Virtually every statistic this month points to a slowdown in the rate of home price appreciation.
Expired listings are up 10% in past 90 days compared the prior 90 days and up 250% compared to the same 90-day period a year ago. An increase in the number of expired listings is a sign that actual home values are less than expectations.
The year-over-year change in the median sales price peaked in January 2022 (up 33% over January 2021). In February 2023 the year-over-year change was only 6%.
Sales volume (the number of properties sold) each month continues to lag the previous year. On a rolling 3-month basis, sales for the 3 months ended in January 2023 were the lowest in the past 5 years. The same stat for February 2023 was the second lowest in 5 years.
Meanwhile, the number of new listings and inventory (the number of active listings) continues to grow. Inventory levels are no longer an excuse for the poor sales. Months of supply is now bouncing between 4 and 5 months. Generally, six months of supply is considered a balanced market where neither sellers nor buyers had an overly strong hand.
You can read all of the details below.
Find Homes for Sale and Recent Sales in Your Neighborhood
To check out homes on the market or to review recent sale prices in your favorite neighborhood, visit the Community Pages from the main menu or just click
here.
If you don't see your neighborhood, call or send me a note with the neighborhood you want to explore.
Expired Listings
The number of expired listings has steadily increased each quarter during the past 12 months. In the past 90 days, 327 listings expired (listing period ended with no sale). In the same 90-day period a year ago (361-450 days ago), only 93 listings expired. Generally, expired listings are the result of home sellers having overly optimistic expectations about sales prices.
Change in the Median Sales Price
The chart below shows the monthly year-over-year changes in the median price (MSP) from 2018 forward. The largest year-over-year gain was recorded in January 2022 when the MSP exceeded January of 2021 by 35%.
However, things began to change quickly starting in July 2022 with price increases falling to just 23% over the prior July. By November 2022, the increase over 2021 was only 12%. For the past 3 months prices have struggled to gain anything over last year, averaging around 4% in December, January and February.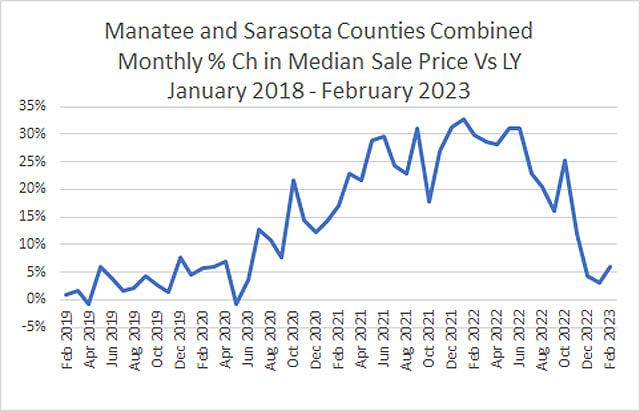 Sarasota+Manatee County Real Estate-Monthly YOY Change in Median Sales Price-Feb 2019-Feb 2023
Looking at the MSP by property type, the fall of in single family homes has been more severe than condominiums. The median sale price of a condo in February was $372,000 VS the peak from May 2022 of $395,000 or a decline of 6%. The MSP of a single-family home in February was $481,000 or 8% less than the peak in October 2022 of $535,000.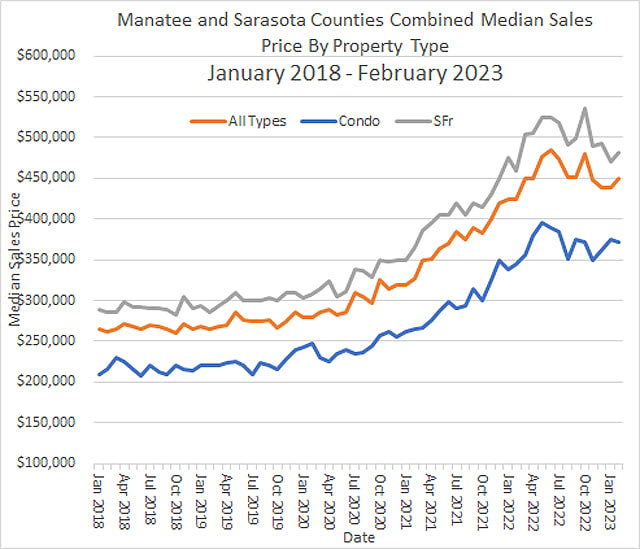 Sarasota County/Manatee County Real Estate- Median Sale Price by Type of Property- Jan 2018-Feb 2023
Median Days on Market
Another big sign that prices are slowing is that finding a buyer takes more time. Between April 2021 and April 2022, the Median Days on Market was in single digits. If you listed your home for sale on Friday, you were often under contract by Monday or sooner.
In June 2022 the average home that sold took only 5 days on average to go to contract. Last month, homes that sold took 28 days on average. That aside, twenty-eight days is still pretty fast based on historical norms. For example, in February of 2019, the median days on market was 49.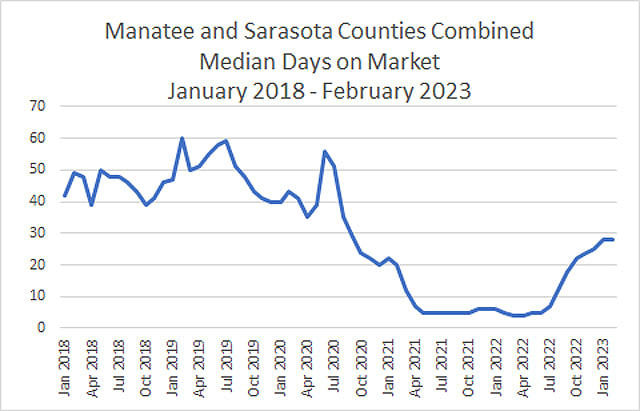 Days on Market for Jan 2018-Feb 2023
Sales
Sales across the 2-county area continue to be weak. Sales in each month since July 2021 have been less than sales in the same month in the prior year. January and February of this year represent the second consecutive year of year-over-year declines in sales (2023< 2022 < 2021).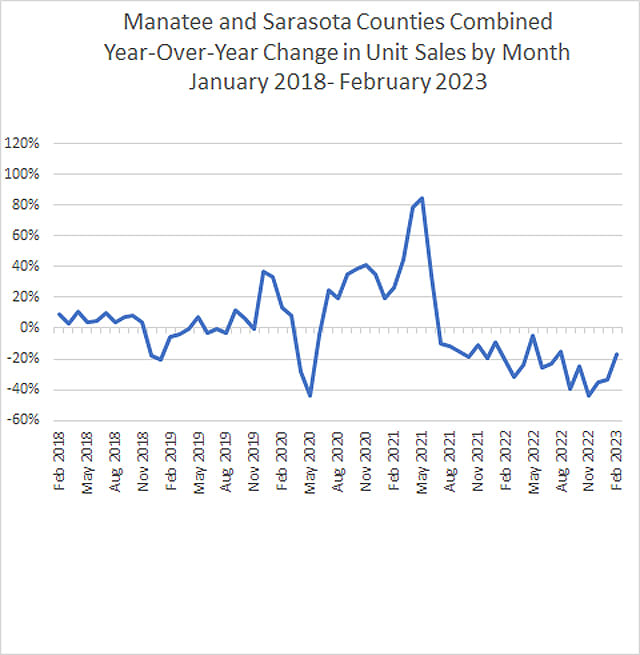 Sarasota+Manatee County Real Estate-Monthly YOY Change in Unit Sales -Feb 2019-Feb 2023
Inventory of Active Listing
At the end of February 2023, there were about 5,30o properties listed for sale. While that is nearly 3 times as many homes as were listed for sale a year earlier, it is still very low for this time of year. For the 3 years prior to the pandemic, February ended with 7500-9000 homes on the market.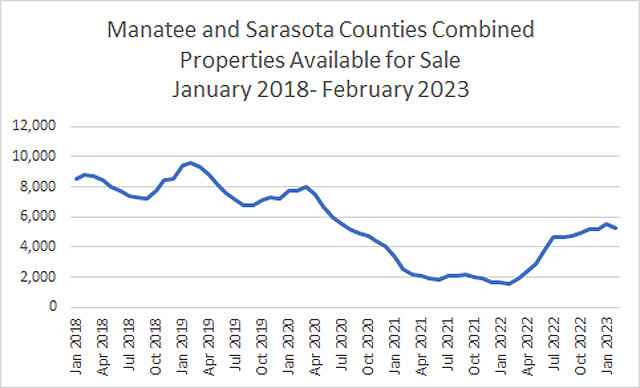 Sarasota County/Manatee County Real Estate- Number of Active Listings at End of Month- Jan 2018-Feb 2023
New Listings
The number of new properties coming onto the market decreased from January but increased over February 2022 (+7%). Over the past 3 months, new listings have increased 9% over the same period last year.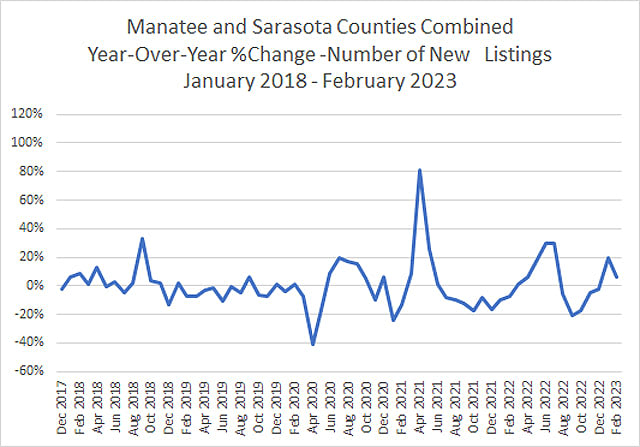 Sarasota+Manatee County Real Estate-Monthly YOY Change in New Listings-Jan 2018-Feb 2023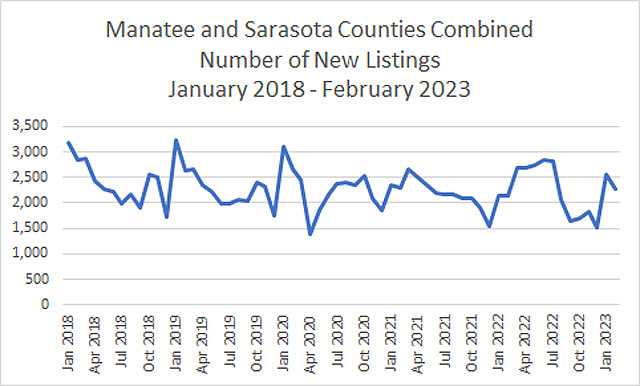 Sarasota County/Manatee County Real Estate- Number of New Listings- Jan 2018-Feb 2023