Summary
Unless otherwise specified, the source of all data in this report is Stellar MLS for the combined area of Sarasota and Manatee Counties and the residential property-types Single Family Homes, Condominiums, Villas, and Townhouses for the time periods indicated.

If 2021 and 2022 had never happened, this would have been considered a great month. Unfortunately, this doesn't count for much. What everyone wants to know is are prices and sales still soaring like 2022 and can I still sell my home over the weekend? The answer to each of these questions is "NO" – not on average, anyway.
Unit Sales Increase 50% over Last Month – but are still 3% short of March 2022
Unit sales climbed out from a 6-month long gutter of mostly double-digit year-over-year declines in sales to come within just 3% of March 2022 sales and to best last month by 50%. The 2085-unit sales in March 2023 are in line with typical pre-pandemic March volume but still 33% less than March 2021 and 3% under March 2022.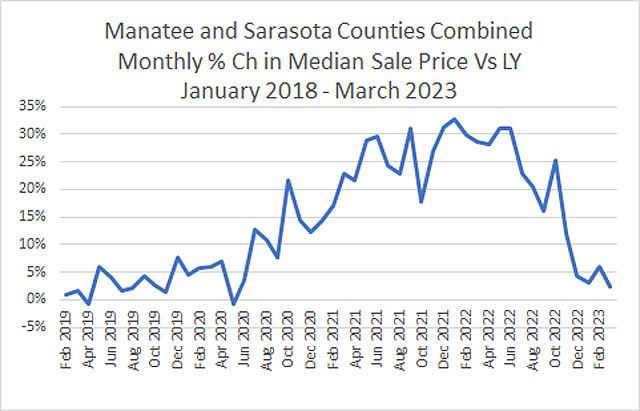 Property Sales By Month for Sarasota and Manatee Counties combined – 2018-2023
Inventory of Homes For Sale
The number of homes on the market at the end of March was almost the same as last month – 5,495. This would have been the least number of homes available sale for between January 2018 and June 2020. Still, there are nearly 3 times as many homes on the market now as the 1,897 that were on hand at the end of March in 2022.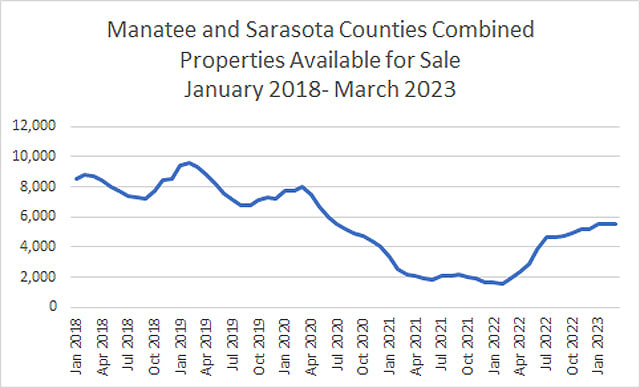 Manatee-Sarasota County -Properties Available for Sale 2018-2023
Expired Listings
The rolling 3-month number of listing contracts expiring before a purchase contract was negotiated improved from 327 last month to 289 this month. However, during the 3-month period a year ago ending (March 2022), only 84 listings expired.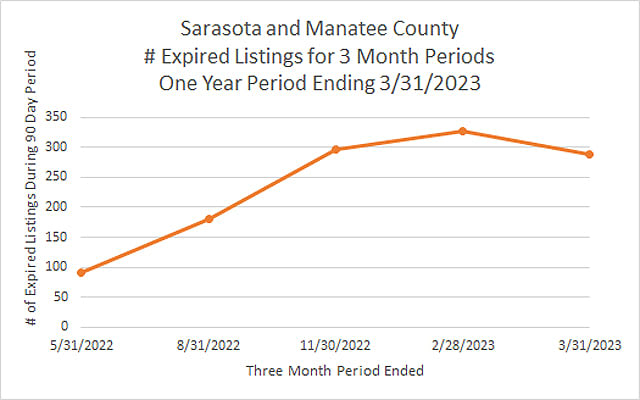 Sarasota/Bradenton Expired Listings Rolling 3 Months – for the 12 months ended 03/31/2023
Median Sales Price
The median sales price for all types of listings increased to $485,000, up 2% over last month and a like amount over March 2022. The median sale price for a single-family home bounced up over $500,000 in March, up to $503,250.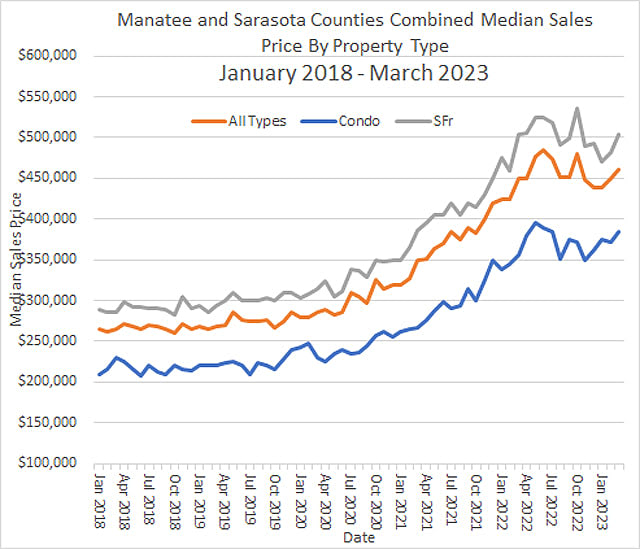 Sarasota/Bradenton Median Sales Price by Type of Property
The growth in the median sales price has continued to slow. The percentage increase in the median price peaked in January 2022 when it grew 33% above the January 2021 price. Since that date the median price has experienced a jagged but pronounced decline in growth, as shown in the chart below.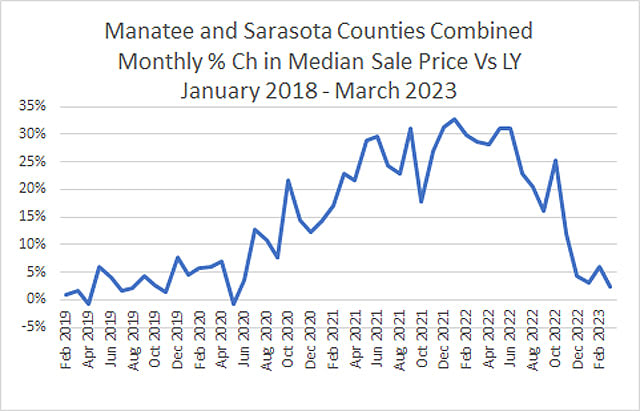 Sarasota/Bradenton % Change in Median Sales Price Vs Last year Jan 2018-Mar 2023
Days on Market
Days on market measures the time between the beginning of the listing period through the date that a purchase contract is executed. During March, the median days on market was 28 (same as January and February of 2023). While this is about 7 times longer than the 4 days experienced during most of 2021 and 2022, it is about half the time that it took to sell a home in 2018-2020.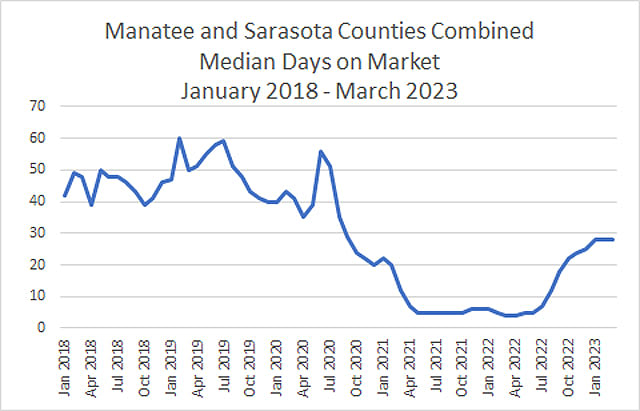 Manatee-Sarasota County -Median Days on Market