The source of all data is Stellar MLS for the combined areas of Manatee and Sarasota Counties. Unless otherwise stated, the data includes combined totals for the residential property types of Single-Family Home, Condominium, Villa, and Townhomes. The period covered is the month of September 2023.
Unit Sales
Unit sales often swing big year-over-year in September due to hurricane effects. This year was no exception. Unit sales were 40% higher than last year due to Hurricane Ina shutting down the entire SW coast for much of the last week of September 2022. This year, the only serious September storm mercifully skipped over us and caused minimal disruption in activity. As a result, sales were the highest for any September since 2019.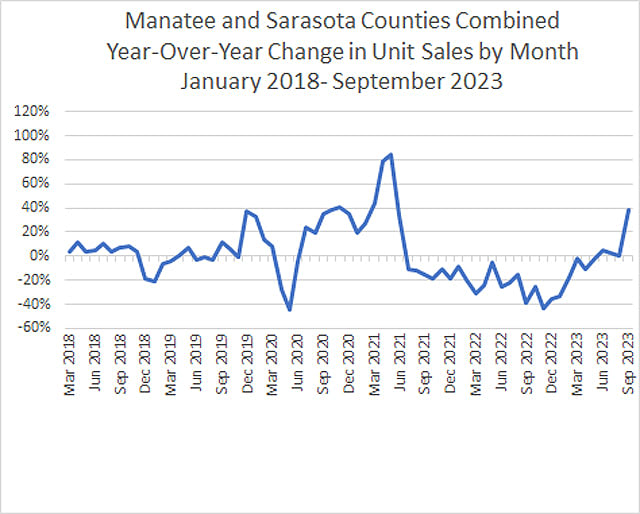 Median Sales Price
The median sales price for September was down 3% vs September 2022 and down 4% from last month to $455,000. This September's median sales price is also 9% lower than the peak of 485,000 recorded in June 2022.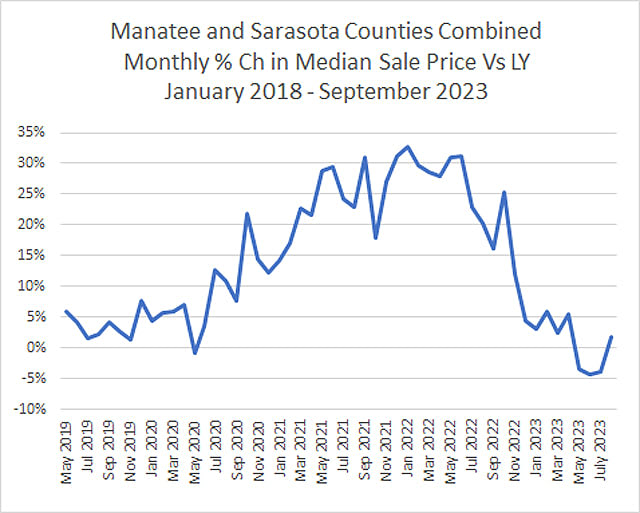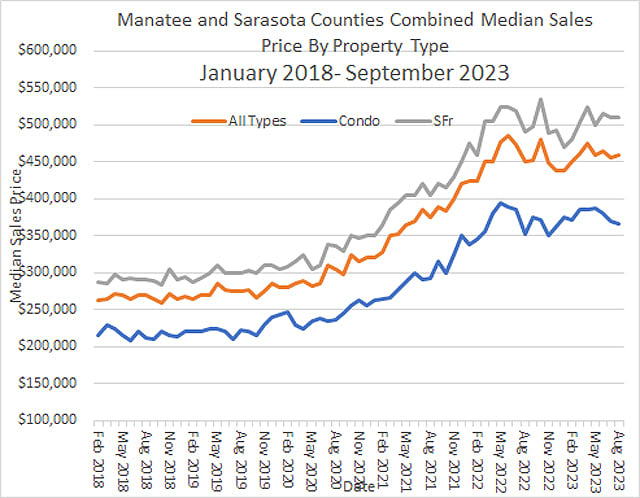 Inventory of Homes for Sale
The inventory of homes available for sale has been flat lining around 6000 units all year. While considerably higher than the floor of 2000 units most of 2021 and the first quarter of 2022, it is still stubbornly low compared to the 7000-9,000 that are typical. Low inventory is keeping lid on sales increases and, to the delight of developers, driving more people than ever toward new construction. More new construction homes have sold in the first 9 months of 2023 than in any full calendar year in the past 10 years (and probably ever). In the 3 years prior to the pandemic, new construction sales accounted for about 12.5% sales for each year. During 2020 and 2021 when the pandemic caused supply issues for the builders, new construction sales dropped to only 8.5% to total sales. This year, new construction accounted for 19% of total sales- the highest share ever.
Days on Market
Days on Market measures the time between the listing date on MLS and the date the listing goes to contract. DOM decreased slightly from last month's 38 days to 34 days. Of course, this is about ten times as long as the time required in 2022. However, under more normal times 34 days would be an outlier on the low side. For example, in 2018-2019 DOM only dropped below 40 days only twice and, on both occasions, only hit 39 days.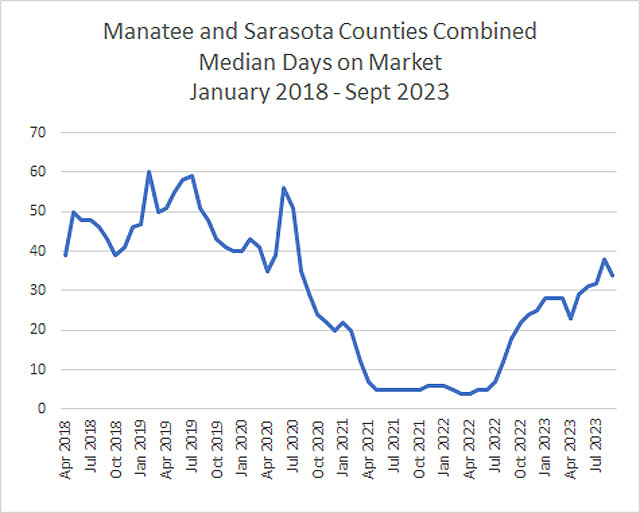 Expired Listings
The rolling 3 month count of expired listings continues to slow climb. An expired listing is a listing that reaches the end of its listing period without selling. The most common reason that listings expire is that the asking price is too high for the market. It is a sign that pricing has become more challenging – i.e., prices are no longer increasing as much as anticipated in this case.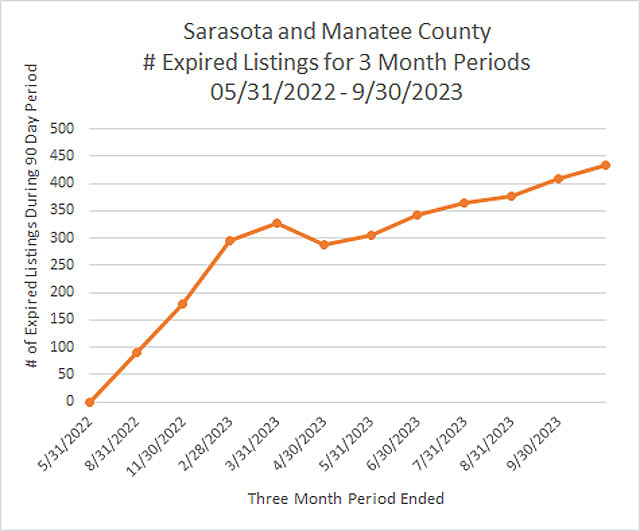 Other Charts of Interest