The source of all data is Stellar MLS for the combined areas of Manatee and Sarasota Counties. Unless otherwise stated, the data includes combined totals for the residential property types of Single-Family Home, Condominium, Villa, and Townhomes. The period covered is as stated in the charts/comments.
What you should expect if you are selling your home today
The median sales price in August was 2% higher than the median sales price for December 2022 and lower the June 2022 market high by 5%. Every neighborhood is different but in general, you shouldn't expect to set a new high-water mark for a sales price. More than likely, the optimal listing price is going to be less than the highest sales price, adjusted for comparability factors like size, view, condition, etc.
Don't be shocked if you don't have any offers after the first week (or many showings for that matter). The marketing time (Days on Market Statistic) for homes selling in August 2023 was 40 days - much like 2019 and earlier years. For most of 2022, Days on Market was hanging around 3 days.
You are not nearly as likely to receive multiple offers as you were a year ago. There is no statistic to track this but if it is taking 40 days to get an acceptable offer, odds are that most sellers were negotiating with only one offer in hand.
Sales
August sales were as close to last year as they could be without being equal- up 1 sale to 1645 from 1644 in August of 2023 and up 2 from last month's 1643. The mix of sales was about the same as last August except for slightly fewer sales under $500k offset by a few more above $1,000k.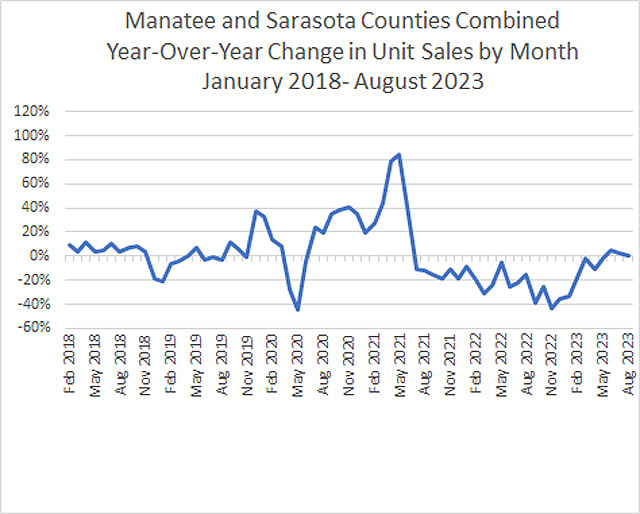 August sales were as close to last year as they could be without being equal- up 1 sale to 1645 from 1644 in August of 2022. The mix of sales was about the same as last August with a slight swing between the under $500k price range and the over $1000k range.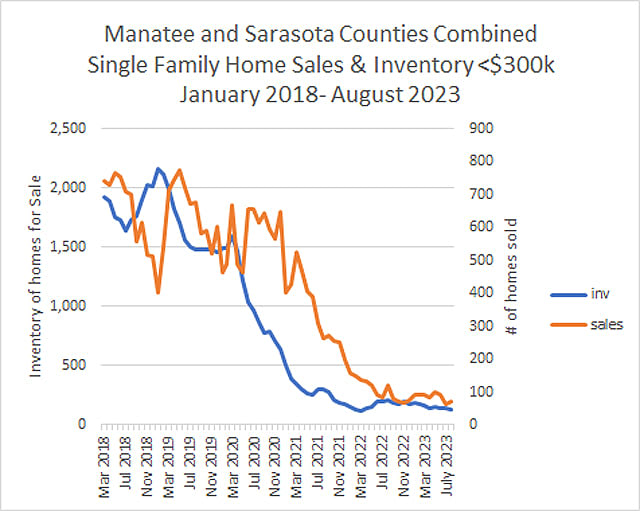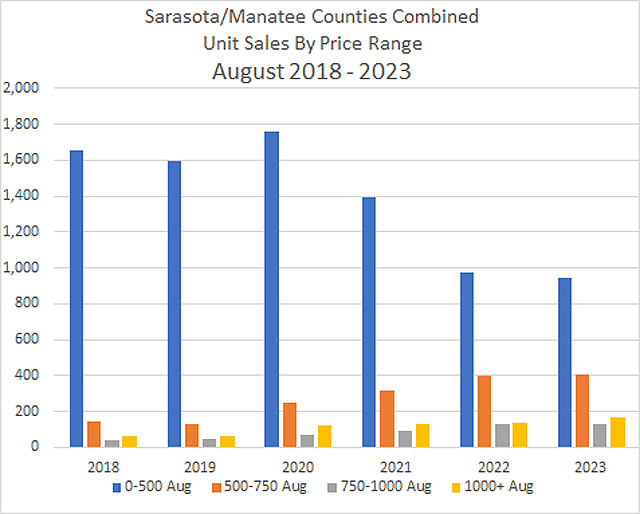 For single family homes priced under $300k both sales and inventory available for sale continue their slow slide. Only four years ago in August 2019 the inventory of single-family homes priced under $300k accounted for 25% of all inventory (all price points plus all housing types). At the end of August 2023, there were only 136 single family homes on the market representing just a half of one percent of total inventory.
Inventory
By any measure, inventory levels are still low. The 5,541 homes on the market at the end of August is considerably lower than pre-pandemic month starting at least 2013. Months of supply (a measure of inventory relative to sales) is 3 for the end of August inventory. That is the lowest for that statistic since 2015. Even then, there were only 5 months between 2013 and 2015 when MOS was 3 months.
However, there are now more new construction options than ever. Lakewood Ranch is still growing and northern Manatee County (Parrish) is exploding. So far this year, new construction sales are a record high 23% of sales. During 2019-2022, the rate ran between 10% and 14% of sales. New construction is absorbing a considerable number of customers on very little inventory.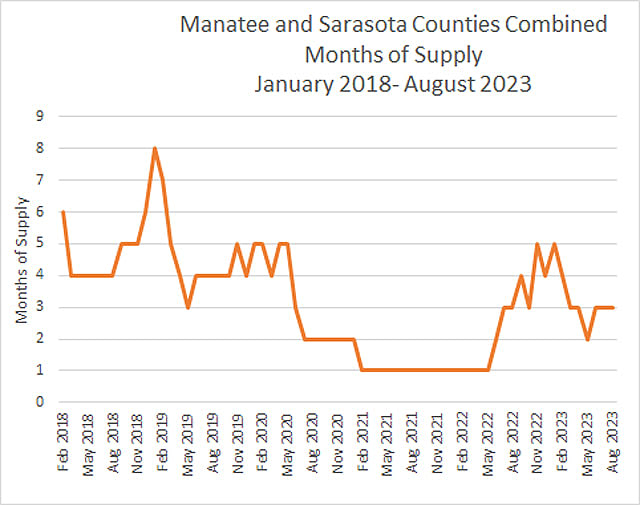 Prices
The median sales price across all product types increased 1% over last month to $459,000. That is down 5% from the $485,000 peak hit in June 2022 and up 2% for the year 2023.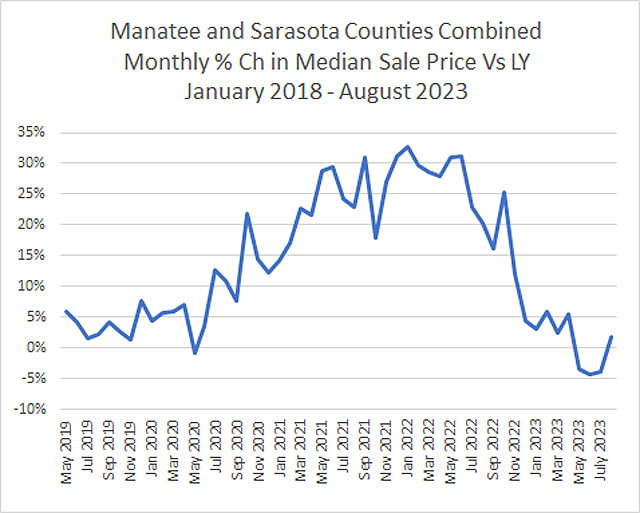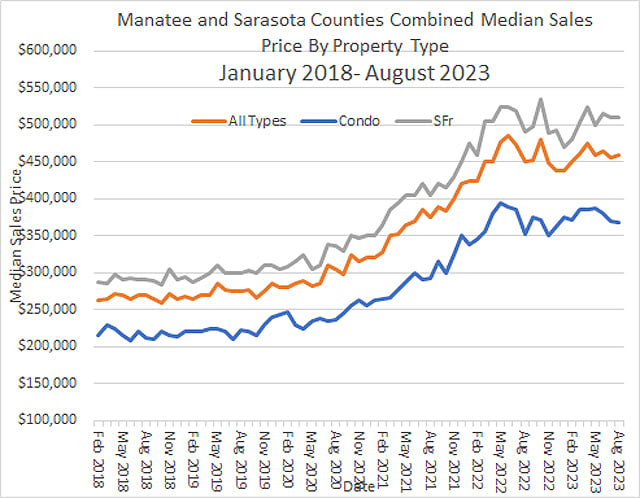 Expired Listings
An expired listing occurs when a real estate agent's listing agreement expires without the home selling. The most common reason that a listing expires is that the property is priced too high. The 3-month rolling count continues to increase as prices become more volatile, making pricing more challenging.